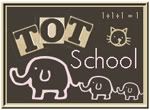 B is 17 months old and C is 41 months old.

Our second week of Tot-School did not go as I had envisioned. Both boys were sick at the beginning of the week so we did not get everything accomplished that I wanted to. We still had a fun week and by the end of the week the boys were back to themselves so we did get in quite a bit of Tot-school.



B has enjoyed reading books in the morning while I get his breakfast ready. He is really into Thomas the Train right now.



This week we worked on the color green. B enjoyed eating green Jello Jigglers. We cut them into fish shapes to go along with his brother's preschool unit for the week.



He also enjoyed fingerpainting with green.

B had a lot of fun playing with his magna doodle this week. He liked stamping the shapes on it and just "drawing".



This week we read the Rainbow Fish by Marcus Pfister and then B made his own rainbow fish. He colored a coffee filter with washable markeres then we sprayed water on it and when it was dry I cut out a fish shape and gave him an eye and some small pieces of foil to glue on the fish. He really liked making the fish and he love the foil.



This week B painted the numbers 3 and 4 and then added the correct number of stickers to match the number. He again chose to add Thomas the Train stickers.



B worked on fine motor skills by sticking star stickers to a piece of paper. He actually sat and did this for about 15 minutes.



B climbed up in his brother's bed and just sat there reading several books. He looked so grown up!


We worked on B's shape puzzle and then he played a lot with his hide away toy. He had to push or click the buttons to make the animals appear. Then push them down to hide them. We did a lot of counting and he also worked on recognizing animals and this was also great for his fine motor skills.

We did not get to do all the things that I wanted to do this week but we still had a great week!