B is 19 months old
Our TOT-School theme this week was RED!! Brayden did a lot of activities with the color red. We really had a very fun week. Some things that I did not get pictures of were him eating red Jell-o, and a red apple and making and eating a red Elmo cupcake that we made.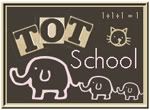 B made a picture using a red dot marker and then he made another picture using a red marker, red crayon and red glittery foam shapes. He loved sticking the shapes down.



B explored Macarroni noodles with red pom poms hidden in them. This activity held his attention for almost an hour. I was amazed!! He is the type of kids that is on the go and moves from thing to thing but this he really enjoyed!



B fingerpainted with red. He loved it and he had it all over him by the time he was finished!



B loves Elmo!! So we used paper plates and paint to make Elmo. He loved painting the plates and pasting them together. When we were all finished he took it to his room and pointed to his door so I would hang it up then he kept looking at it saying "Melmo, Melmo"! This activity was definately a big hit this week.



B stuck red pipe cleaners into a half of a stryo foam ball. This was hard for him at first but when he realized he really needed to push it hard to get the pipe cleaner in he got to where he could put them in and take them out very fast.



B played with red playdough and practiced cutting it with a knife. He also used little playdough scissors to cut the playdough.



B took red Froot Loops and put them on a spaghetti noodle standing up in red playdough. He really liked doing this activity and he was very good at putting the red Froot Loops on the noodle.

We had a very fun and very red week!!