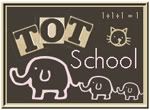 This week we spent some time just getting organized and back in the groove. We did not do a lot of exciting activites but we still had fun.

B is 21 months old



Popcorn and a movie. B enjoyed having popcorn and watching Space Buddies with his brother.




B sorted the cars by color. He liked this and is starting to get the hang of sorting.



Yet another train track that he got for Christmas. It is a Thomas one and he loves it but it comes apart very easily so I am constantly having to put it back together. I just wish he could withstand them playing with it a little better.




B is sooooo into trains right now. He plays trains a majority of the day and if he is not playing with them he is carring them around. He has train fever for sure!!



B got some new play dough and accessories for Christmas and he has loved playing with it all. He is just now starting to learn how to roll a snake and now he likes to take the scissors and cut it.



Painting Thomas the Train pictures with watercolors.

Now that we are back in the groove next week we will do more activities. Next week we will be working on winter/snow, the letter S, and the color white.