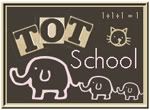 B is 17 months and C is 41 months

This was our first official week of Tot-School and boy did we stay busy.


B loved working on his jungle animal and farm animal puzzles. It took him awhile to get the hang of it but when he did he worked them each about a dozen times.


B thought he was the stuff when he played with his brothers Geo Trax planes while his brother was napping.


B and C painted the numbers 1 and 2 this week and then added the matching number of stickers. You can see more of C's a activities in our preschool corner post.

b drew on black paper with white chalk. We have been working on the colors black and white.
>

B played a lot with his abc train. He loved dancing to the songs and putting the letters in the top and watching them come out in the seat. Then he decided to just sit on his train and read.


Working on the color blue with dot paint.



B liked playing in the salt trays that his brother was using to work on writing numbers. B worked with the salt for quite awhile. I think he just loved the texture.

This is his W snack. His brother was working on letter W this week so we had a snack of waffles and watermelon. B loved it!!

We had a great first official week of tot-school!