To learn more about Tot-School and get some great ideas to do with your toddler go to
Tot-School
.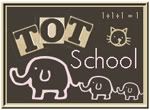 B is 23 months old!
B is finally feeling better!! Boy February was just not his month. We go back to the Dr. for an ear re-check this Friday so hopefully after that we will be on the mend.

The past two weeks we have gotten a little Tot-school done and we have just had a lot of fun.

Last week our Bible story was Martha and Mary and then this week it was Moses. I think we may spend some more time with Moses next week!

We got to enjoy a fresh 5 inches of snow last Tuesday and the boys both loved it. WE had snowball fights, built snowmen and snowbears and just enjoyed nice family time together. We also enjoyed making and eating snow cream!!
The snow



Snow Cream!! YUM!!!


B got to build a Lowebot car from Lowes. He loves to use a hammer and he is actually quite good at hammering in nails.




He got to see Curious George Live. George is one of his favorites so he LOVED this show!!


Last week we read The Mitten by Jan Brett and B made a paper mitten and then laced it and he colored the animals from the story that we printed of janbrett.com. He would help me put the animals in the mitten as we read the story.

B also did a M is for mitten magnet page from making learning fun. He used dot markers to paint his.


We also read The Hat by Jan Brett. He colored a hedgie from the website and then used the scrap box to make a hat for Hedgie to wear. B just loves getting the glue out!!
Trains




Puzzles
B is really getting into puzzles. He has a birthday coming up so I hope he will get a few new ones then.



This past week we celebrated the birthday of Dr. Seuss. We read a ton of great Dr. Seuss books and then we reread many of them. B's favorites were The Cat in the Hat and Put Me in the Zoo. He made a cat in the hat hat to wear and then he painted a paper plate and a hat and created a Cat in the Hat. This ttemplate came from Making learning fun. He also put together a dog from Put Me in the Zoo and used Dot markers to paint the spots and he did a Z is for Zoo Magnet page using dot markers again.


Even though B was not himself last week we did seem to get a lot done over the past two weeks. We have had a lot of fun and we love having daddy hope to play with us in the snow!!