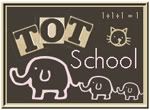 B is 18 months old

This week we did a little work with the letter Bb. We read many stories about bears and we worked on color recognition. We also read the story Stellaluna and made a bat with B's handprints. Our Bible story was Adam and Eve.



B made a teddy bear headband. He wore it almost the entire week. He loved looking at himself in the mirror with it on.



B enjoyed playing with the color matching cards from Brown Bear, Brown Bear What do You see?. This was an Elmer's game that we got at Barnes and Nobel.



B used dot painters to paint the letter B blue.



B laced a teddy bear. I had to hold it for him most of the time but he did a great job putting the string in and pulling it all the way through. Then he glued on eyes and a nose.



After reading Stellaluna B made a bat using his handprint that we traced on black paper. He liked flying it around when he finshed it.



After reading A Pocket for Corduroy B made a Corduroy and then he put several pockets on it.



B made a bear out of the letter B. He really enjoyed using the glue on this project.



B also loved watching this Bear in the Big Blue House Video about shapes and colors.